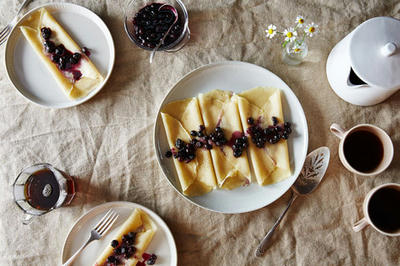 These breakfast crêpes are just right: sweet but not too sweet and infused with a mildly nutty flavor from the chickpea flour. You can prepare the batter the night before you make these and keep it in the fridge, covered, overnight. In the morning you'll have a quick breakfast that will still feel like a special treat! (less) - Gena Hamshaw
Serves 4 to 6
1 cup chickpea flour
1/2 cup all-purpose flour or rice flour (brown or white)
2 tablespoons organic sugar
1/4 teaspoon salt
1 teaspoon vanilla extract
1 tablespoon melted coconut oil
1 cup almond or soy milk
1/2 cup water
Oil, for frying crêpes
Whisk the flours, sugar, and salt together in a large mixing bowl. Make a well in the center of the dry ingredients.
In a small bowl or measuring cup, whisk the vanilla, oil, almond milk, and water together. Add them to the well in the dry ingredients and mix everything thoroughly, using a whisk. Try to eliminate all clumps; if you have trouble doing this, you can use an immersion blender to blend the mixture thoroughly. Cover the batter and refrigerate it for 1 to 4 hours (you can even refrigerate it overnight, if you like).
Lightly oil a small frying pan or crêpe pan and heat it over a medium flame. Pour 1/3 cup batter and quickly swirl it around in the pan, doing your best to distribute it as evenly as possible. Cook until small bubbles form on the surface of the crêpe. Gingerly flip the crêpe over and cook for another 1 to 2 minutes, until both sides are golden. Repeat with remaining batter. Serve with banana slices, fresh berries, jam, or almond butter (or all of the above).
PR